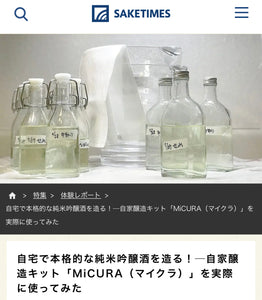 Product Selection Guide 🔎
※Our products are also available for customers live in Japan, however home brewing is  prohibited in Japan so refrain from using them inside Japan. 
BUY FROM OUR OVERSEAS DISTRIBUTORS
We have distributors in these countries/areas,so if your delivery address is in one of these countries/areas, you can purchase from a local distributor.🇭🇰🇦🇺🇸🇬🇦🇹🇺🇸
*The range of products available varies from country to country, please contact the distributor for details.
MICURA's Overseas Distributors
What is MiCURA ?
MiCURA is the world's first and only brand of sake home brewing kit that realized authentic sake home brewing easy and simple.
You can make 2ℓ of Junmai Ginjo Sake (60% rice polishing ratio) in about a month.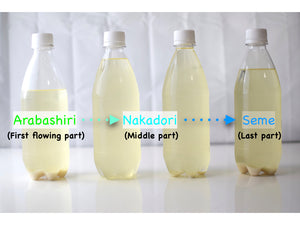 Authentic
・DIifferent from doburoku and bodaimoto/mizumoto, you can make authentic Junmai Ginjo Sake(60% rice polishing ratio) using special koji and rice for ginjo.
・Our Sake bag is made of the same material as those used for Fukuro-shibori of premium Sake and specially made in home brewing size.
・You can learn how to arrange your Sake in various ways, such as making it into a sparkling (e.g. active nigori sake), different methods of pressing, and with or without hi-ire (pasteurization).
Recommended equipment for advanced users
Premium
MiCURA offers a choice of 2 types of rice for Koji(Yellow-koji): "Yamada-nishiki", which is often used for premium Sake and is called "the king of Sake rice", And "Gohyaku-mangoku", a representative variety of light and dry sake.
*Kake-rice of all products and White-koji of NANA are 100% Japanese grown Rice. 
Premium Sake Rice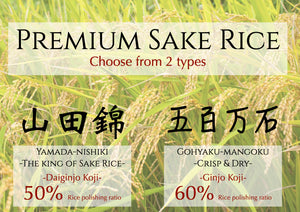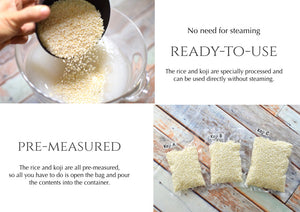 Simple
・MiCURA is designed for authentic yet simple Sake home brewing. It removes the process of making shubo and instead uses a "kobo-jikomi" technique.
・The rice and koji are specially processed and can be used directly without steaming.
・The rice and koji are pre-measured, so all you have to do is open the bag and pour the contents into the container.
・The container* is the perfect size for MiCURA moromi that it will take up minimal space in your refrigerator.
・The mouth of our Sake bag perfectly fits to the container that one person can easily perform the pressing process.
 *Containers are included in the complete set. One is for moromi and the other one is for shibori (pressing).
FAQ
Exciting
・You can observe the fermentation process from all sides.
・It's so much fun watching moromi changes day by day.
・You can enjoy the tasting of moromi (Sake mash) and super fresh nama-zake straight from the tank, something only home-brewers can enjoy.
Gallery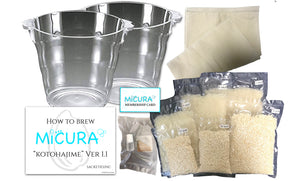 Our Philosophy
Sake brewing is like an orchestra of microorganisms, where alcohol, sourness, sweetness, umami, and aroma are produced by the various actions of yeast, koji mold, and other invisible microorganisms.

Sake brewing is about directing these microorganisms. We nurture them by providing them with pleasant and sometimes harsh environments, sometimes drawing out their power, sometimes suppressing it, and sometimes adjusting the microorganisms' power to achieve the desired flavor.
Inside the tank, many things are happening simultaneously, such as saccharification, alcohol fermentation, and the production of flavor, acidity, and aroma, and the taste can vary greatly depending on what action is taken at what stage of the process. The basic ingredients of Sake are rice, water, and koji, but the interesting thing about Sake is that even with such simple ingredients, a variety of flavors can be created depending on how it is made.

Brewing sake is like playing a musical instrument, which is fun in itself.
Sake breweries are professional musicians, so to speak, but musical instruments are not just for professionals. 
Music is not only fun to listen to, it is also fun to play by yourself.
Also, by trying it yourself, you can appreciate the beauty of professional music. And sake - it' s great to drink, of course - but it will be more interesting if you can make it by yourself.
Under this philosophy, we are developing this MiCURA®︎ Sake home brewing kit.